Many children are removed from their homes suddenly due to situations of abuse, neglect or personal tragedy. These children usually leave with only the clothes they are wearing. In some cases, all of their toys, stuffed animals, blankets, and clothes, even the ones they are wearing, must be destroyed due to contamination. These children do not even keep the clothes on their backs. They leave their homes in hospital gowns.
Learn About Miriam's Basket
Miriam's Basket is a not-for-profit organization established April 2011 to provide clothing and shoes for children of Clay County, Florida who have been victims of abuse, neglect, or personal tragedy.
Our mission is to intervene in the critical times of these children by providing items such as clothing, shoes and socks, pajamas, underwear, coats, and other necessities as mandated in Matthew 25:31-36a. When we receive a referral for a child in crisis, we respond by providing 7 complete outfits, shoes, pajamas, 7 new pairs of socks and underwear, coats and sweaters (seasonal).
Each Bag Contains a Lot of Love
We always pack their things in brightly colored bags with their first name on the outside. When they see the bag, we want them to smile and know it was put together especially for them. We believe these children deserve more than the bare minimum.
Each Bag Changes Lives
For their privacy and protection we never get to meet or see the children we help. However, we do receive reports from case workers about their reactions when they receive their bags.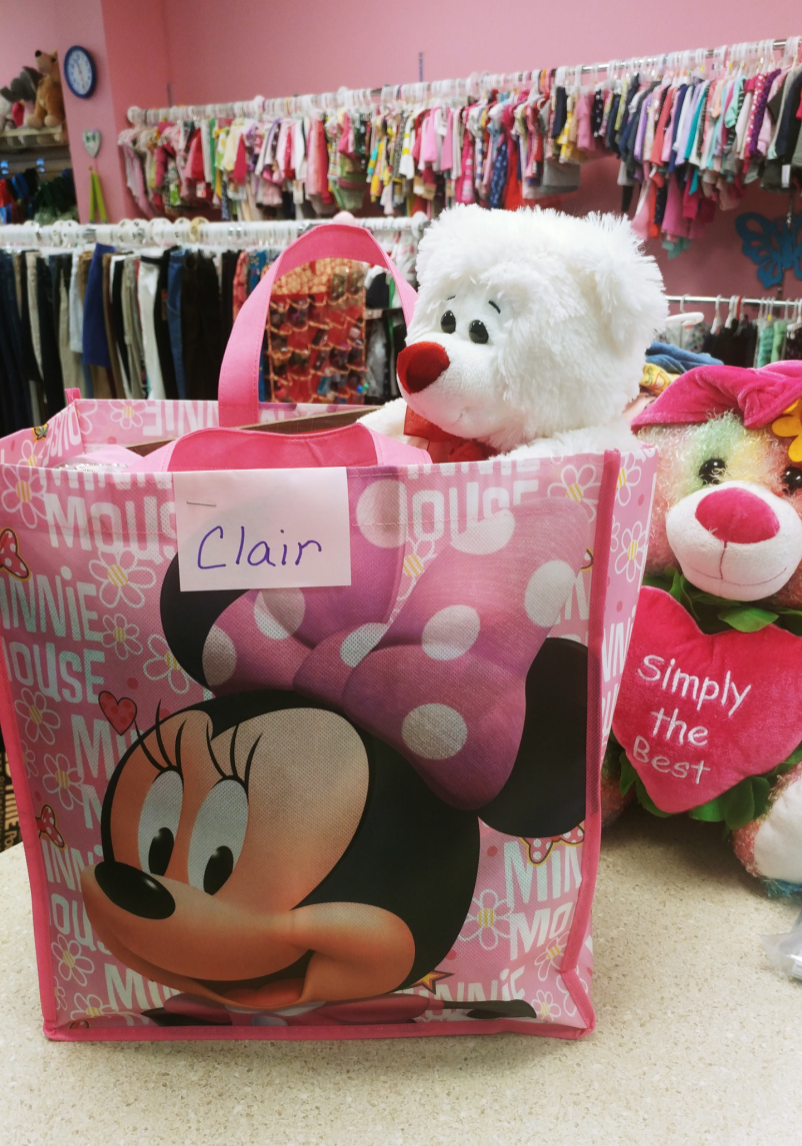 "This little girl was so excited to have dresses, pink clothes, ruffles, sparkly shoes, and bows for her hair. The only clothing she had before were hand-me-downs from her brothers."
"When the children saw their bags today they got so excited! They said it was just like Christmas!"
"When I gave the little boy his bag, I told him try on some of his new clothes for me. He came out a few minutes later wearing only the underwear. When I asked where the rest of his clothes were, he said he didn't want to cover up his new underwear! He had never had new underwear before."
"When I gave this little boy his bag he ran over to his mother, opened the bag and said… Look mommy… You don't have to cry anymore… We have new clothes to wear!"
1. Hear the Need
A caseworker in Northeast Florida sends a request on behalf of a child in need.
2. Create Bags of Love
Our team prepares a personalized, brightly colored bag for the child.
3. Care for the Children
The individualized bags are delivered to the child by the caseworker.
When caseworkers have a child in need, they send us a referral requesting clothing and shoes for the child. In December 2011, we gave our first bag of clothing to a five year old girl. Her mother had dropped her off for a relative to babysit her. The mother never came back.
Since then, we have provided clothing and shoes for over 3,370 children.
The ages of the children range from 2 hours to 19 years old.
You can help support these children through difficult times.
Children
We don't know ALL of the particulars of their situations, but we do know something has gone terribly wrong for them to be removed from their homes. We know they are children in crisis who deserve to have the best we can possibly give to help them on their journey into safety, stability, restoration, and recovery from whatever they are going through.
Families
When a grandparent or family member step up to take in a child, they sometimes need help. They may be on a fixed income or simply find themselves in an unexpected situation and need help with the transition. Your support can help keep families together through a time of crisis by helping them meet these basic needs.
I was hungry and you fed me, I was thirsty and you gave me a drink, I was homeless and you gave me a room, I was shivering and you gave me clothes...
Matthew 25:31-36a